Where to Winter Camp in the BWCAW
Hannah Hoaglund
There's a certain magic that is found while camping in the north woods, especially in the winter. The cold and snow seems to create a special kind of permeating and beautiful silence.
One of our favorite ways to experience that magic during the snow-filled months is by winter camping (if you're interested in learning more about the types of winter camping, check out the information we shared in a past blog post HERE). Since it's becoming such a big part of the winter culture up here on the North Shore and in Boundary Waters Canoe Area Wilderness, we wanted to share a few recommendations of WHERE to winter camp.
Daniels Lake
If you enjoy fishing, skiing or wildlife (moose have been rumored to be hanging around the area), we highly recommend winter camping on Daniels Lake. The deep lake is very pretty with the surrounding rugged topography blanketed with old grown boreal forest. You'll find access to the Border Route Trail from this lake which is great for skiing in the winter as is the long portage for folks who want to do some skiing during the day.
Interested in the fishing? You'll usually find lake trout hanging out in shallow water in Daniels Lake. Start searching for them around a water depth of 18-30 feet.
Getting There:
There are two access points to Daniels.
Our favorite access to Daniels is off the Clearwater Lake Road where a spur trail leading to the Border Route Trail meets the road. There is no winter parking lot there, but you can unload your gear and drive a mile back to the access on the east side of Bearskin to park your vehicle. The trail to Daniels is very flat and usually well pack. Once on Daniels you'll find a campsite almost right away near the entrance point.  If it is slushy, we suggest setting up at that site (site 3 marked on the map below). It is not a great site, so if the ice is frozen well and not slushy, camp on the ice further down the lake or in one of the other designated land camp sites. Use of summer sites is allowed in the winter but not required or necessarily recommended by forest service for winter camping.
The second option is to access Daniels from Hungry Jack Road. We recommend parking in the small lot between Bearskin and Hungry Jack Lake. From there, travel across Bearskin Lake and follow the 60 rod portage to Daniels Lake. This will put you into an area where the lake has steep drops, making it a great spot for holding trout.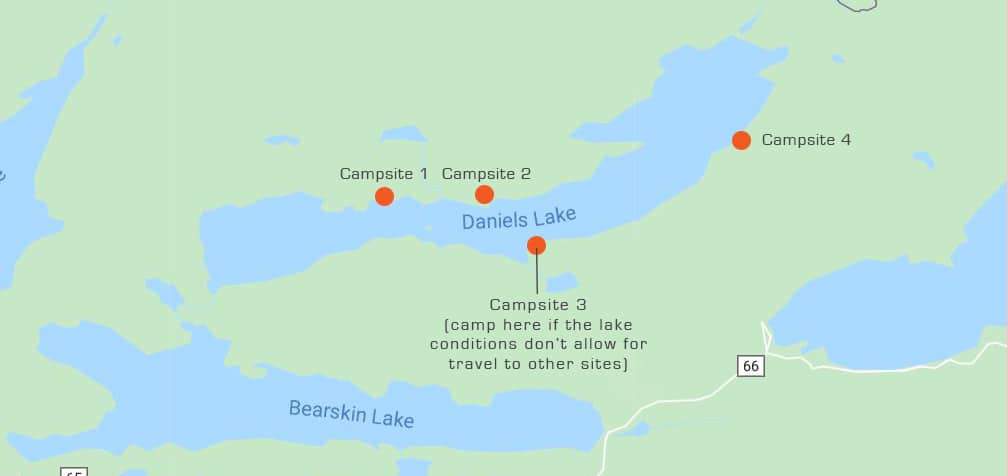 Clearwater Lake
We love this spot for the huge cliffs and great scenery that surrounds the lake. This lake also has good lake trout fishing. Most of the fish tend to be small, but a few real big ones are caught most winters. This lake has public access, so no portaging is necessary. On the south shore of the lake, you'll find 400-foot cliffs, which offer incredible views from the camping spots on the north shore, which we recommend camping at or near.
If you're looking for a day trip from Clearwater Lake, we recommend heading over to Mountain Lake.  There is a steep hill going into mountain, but without camping gear the trip is manageable. Mountain Lake is a very pretty lake and it usually has better lake trout fishing than Clearwater.
Where to set up camp:
Camping right on lake makes shoveling out a site for your tent easier, and its always hard to know whether you'll find rocks or stumps under the snow on land until you shovel a spot out.  It is worth noting that a puddle of water will form near the stove of the tent as it melts the top of the ice if you're camping on a lake. The hearth and reflector we rent helps with this issue a lot, but it isn't perfect. Camping on land will eliminate this issue and also put you closer to a latrine. So, choose the option which seems most fitting for your situation and adventure style.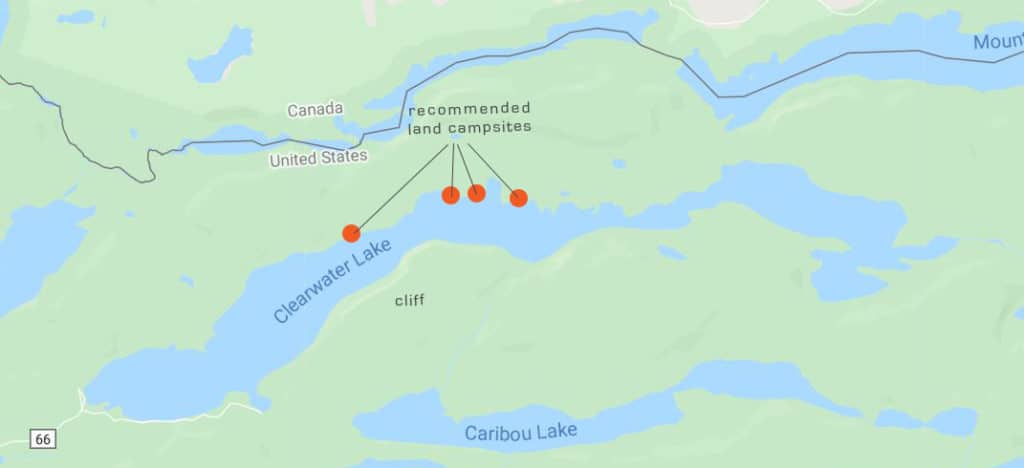 Sawbill Campground
Sawbill is a great option for people who don't want the full-on remote winter experience. Its also a great option if you're new to winter camping. This location allows for day trips into the BWCA, yet you'll be close enough to your car should you need to warm up.
Winter camping is free and no reservations are needed. It is important to note that the campground is not maintained in the winter, but the vault toilets are open year round.
From the campground there are great opportunities for skiing and snowshoeing. We recommend heading to Alton, or if the conditions are great, a big loop from Alton, to Kelso, to Kelso River and back to Sawbill can be traveled. However, be sure to use extreme caution on the river sections due to changing ice conditions.
Getting There:
To get to the Sawbill Lake Campground take the Sawbill Trail from Tofte until you reach the end of the Trail (approximately 23 miles). Park in the main lot and pull into a campsite of your choice.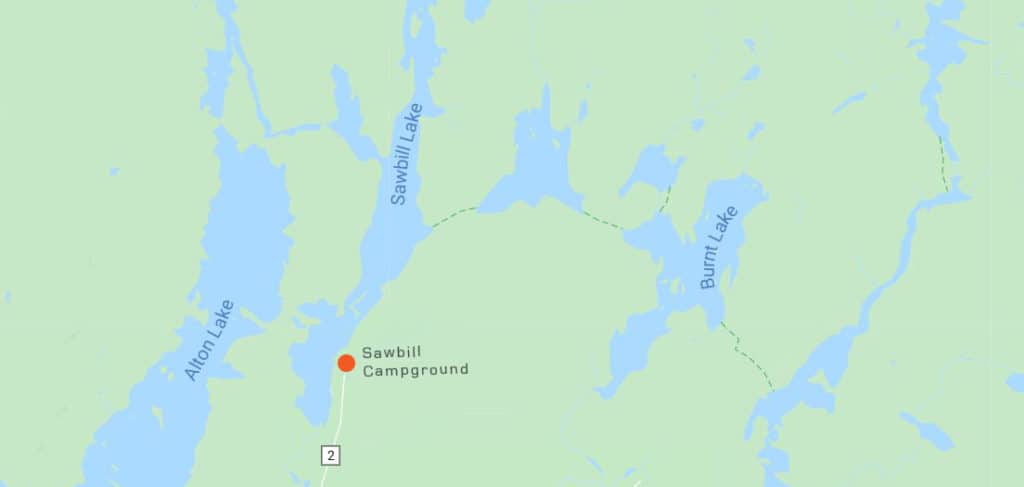 Questions?
So there you have it: our top winter camping spots in or near the Boundary Waters Canoe Area Wilderness. If you're planning on heading out on a trip this winter, don't hesitate to reach out. We'd love to help you plan your trip and answer any questions you may have going into it.
Other articles of interest:
How to set up a Snowtrekker hot tent
Hok Skis in the Boundary Waters
2020 Boundary Waters Permit Information