The goal of a completely outfitted trip is to provide you with quality equipment including everything you'll need  to enjoy your vacation. We don't have set tours or packages, each trip is custom designed for you.
Proper planning is essential for a good trip. Consider the following as you plan your wilderness vacation:
1. How comfortable are you in a canoe and with wilderness camping? (We are used to working with people of all abilities. Our experience and advice helps give you the confidence needed for this adventure.)
2. How many days do you plan to be out? (Four to six days is about average.)
3. Do you want to base camp or travel each day?
4. How important is fishing, photography or relaxation?
Based on this information, we will work with you to select an entry point and plan a trip route. As we focus on your trip goals, we can recommend the appropriate gear.
All rentals are based on a calendar day (not a 24 hour period).
Sawtooth Outfitters Provides
The proper canoe for your trip based on your needs and trip plan.
Paddles fitted to you and your canoe.
Vest style "paddling" life jackets that are comfortable to wear.
Eureka Tents; 2, 4 or 6 man. All have floors, cross ventilation, are bug-proof and have storm shield exteriors.
Therm-a-rest self-inflating air mattresses to sleep on in comfort.
Sleeping bags filled with synthetic insulation that are freshly laundered.
A wilderness kitchen that will include everything you need per your selected menu. For example: stainless steel pots and pans, silverware, cups, coffee pot, plastic plates, large spoon, spatula, and cleaning items. Peak I Coleman stove is also provided, along with a folding saw, matches, and fire starters. A tarp will be sized to your group. It will provide shelter to eat and cook under.
A backcountry emergency  first-aid kit with all the items you would need to handle small to moderate medical situations.
Granite Gear packs with padded shoulder straps and hip belts for your food and personal gear. The food pack has a cardboard box with poly liner or you can use a bear resistant barrel.
Other items we provide: toilet paper, rope, waterproof maps, compass, water filter and map case.
Instructions on your pre-selected menu prior to packing. We have field tested and tasted all of the dehydrated foods on the menu.
What You Should Bring
1-T-Shirt
1- Long Sleeve Shirt (light weight and quick drying)
1- Pair of shorts and pants or 1 pair of zip off pants
1- Long underwear top and bottom
1- Fleece or wool top and bottom
1- Swimsuit
Socks and underwear
Rain jacket and pants that can also be used as windbreakers
1- pair of shoes to get wet. Portages can be rocky, rugged, and muddy. Shoes should have good support. Flip flops are not a good idea.
1- pair of dry shoes for camp
Hat for sun and rain protection
Sunscreen and lip balm
Sunglasses
Mosquito Repellent
Toilet Articles
Pack Towel
Headnets
Headlight or Flashlight
Pocket Knife
Camera
Fishing Gear
Book, deck of cards, and/or travel games
Journal
Water Bottle
Temperatures could be anywhere from freezing to 90 degrees, even in August. Coming in May, June, Sept, or Oct?… You could see snow. Your clothing should be able to keep you warm in all temps. It is best to dress in layers and stay away from cotton. Synthetic or wool clothing offers good insulation and dries quickly. Lightweight long pants and long sleeve tops can also keep those pesky mosquitoes and flies off of you. Need help or suggestions, let us know. We are here to help.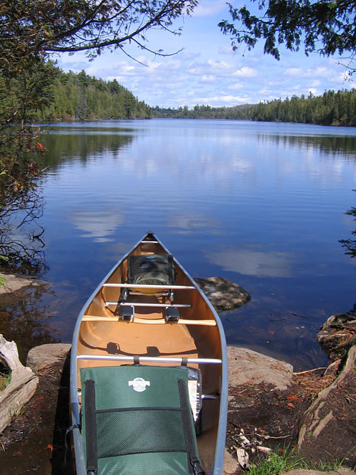 Complete Outfitting Rates
Per person, per trip with a 3 day minimum are as follows:
Standard Package (Rates include a 17′ Grumman canoe)
3 day – $230
4 day – $300
5 day – $370
6 day – $440
Deluxe Package (Rates include an ultra light Kevlar canoe)
3 day – $300
4 day – $395
5 day – $490
6 day – $585