Entry Point 41: Brule Long Island Loop
Days: 3-6
Features: Variety of large and small lakes, excellent fishing, and wildlife.
Day 1 – Brule to Winchell: Launch your trip from the entry onto Brule Lake, heading north. Brule is a massive lake with a service area of over 4,326 acres and a maximum depth of  78 ft.  The lake hosts an abundance of fish species including burbot, northern pike, smallmouth bass, tullibee (cisco), walleye, yellow perch, and white sucker.  If you haven't traveled Brule, the most important thing to be aware of is the weather, specifically the wind.  Wilderness travelers can be pinned down on Brule's numerous campsites by high winds that blow across its expanse creating waves that may swamp even the most experienced canoeists.  Therefore, we recommend two different routes to traverse Brule depending on the conditions.  The first route is seen on the map below and heads northwest into Cone Bay.  Here you can portage the "cones" chain before veering east into Cliff Lake. This is an ideal route for crossing the lake when it is calm.  If wind is an issue the safest option is to wait out the weather on Brule until conditions are safe.  If you choose to make the crossing, use the islands directly north of the entry for shelter  to take an alternative portage into Lily Lake which is the start of the "Grassy Lake Route" leading to Winchell.  This route will allow you to bypass much of the open water most impacted by high wind, is more direct, but includes a much longer portage, potentially from Mulligan all the way to Wanihigan.  Either route will take you to Wanihigan Lake then into the west end of Winchell where 5 campsites await in the immediate vicinity.  Though Winchell is smaller than Brule, 876 acres, its max depth is 163 ft and home to some very large pike and good eating size lake trout.  This is an excellent lake on which to extend your stay and enjoy the variety of stunning cliff features.  Enjoy the camping and fishing before continuing to the smaller water northeast on the loop.
(scroll down to continue reading)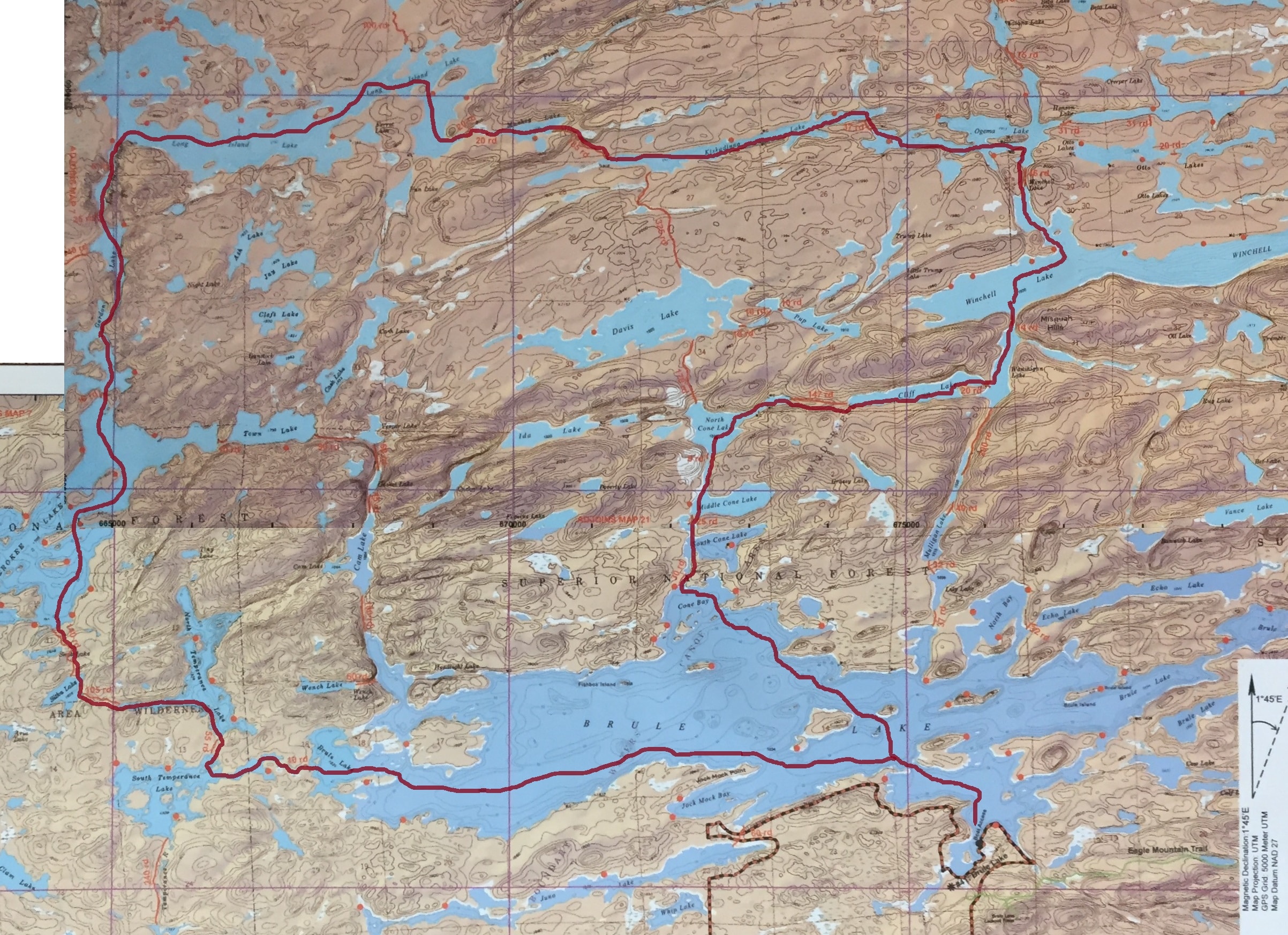 Day 2 – Winchell to Cherokee: Start the day paddling into the northern bay on the east end of Winchell that leads to 46 rod portage into Omega.  Turn west and follow the  south shore of the large island while enjoying the tranquility of a relatively small lake compared to Brule and Winchell.  Paddle the length of Kiskadinna past two campsites on the south facing shore.  The 178 rod portage into Muskeg can be labeled as rugged and includes areas of steep and rocky terrain.  On the West end of Muskeg, you will encounter the impact and regrowth of Famine Lake Fire which was started by a lightning strike and consumed more than 6.5 square miles. En route on the portage into Long Island Lake, be prepared to encounter beautiful cliff faces and lots of beaver activity that may lead to some wading and paddling along the way.   Your destination for the day can be any of the 9 or more well-traveled camp sites on this beautiful lake. Long Island is another one of the big, deep lakes along this loop with over 23 miles of shoreline and a maximum depth of 85 feet that hosts both lake trout and northern. For this reason, consider spending an extra day to explore, fish, and take in the remote experience this lake has to offer.  If you wish to continue on the route, take the southwest portage to Gordon Lake and continue one into Cherokee Lake, a beautiful lake with numerous islands and 16 campsites.  This is also an ideal lake to spend a layover day exploring, swimming, lounging, or fishing especially if you pick one of the 5 island campsites.  With a max depth of 142 feet, Cherokee is known for its lake trout.
Day 3 – Cherokee back to Brule: 240 rods of portaging with a short layover in Sitka Lake will start your day off with some good exercise as you head south and east into North Temperance Lake. Expect the portages through this area to be difficult as you are passing up and over the Laurentian Divide. This "height of land" is an extension of the overall division in central North America that separates the Hudson Bay watershed to the north from the Gulf of Mexico watershed to the south and the Great Lakes-St. Lawrence watershed to the southeast. If you are lucky enough to be sick of catching northern or trout, the Temperance Lakes are your chance to finally get into some walleye and bass. Also keep an eye out for moose that many travelers have seen in this area. From South Temperance Lake then head due east back into Brule.   Once back on Brule, keep in mind the wind advisories noted in the beginning of this route description. If conditions appear unsafe, you can wait out the weather either on South Temperance or at one of the three campsites on the west end of Brule. While you are there, take advantage of the excellent bass fishing before making your way back to the entry point to complete your trip.