Entry Point 40: Homer Lake to Brule Lake
Days: 2-4
Features: Fishing, Wildlife, Weekend Loop
Day 1 – Homer to Vern: The Homer entry point starts a little over half way down the Walleye and Northern filled Lake.  If you are able to get to the Homer lake entry early for your weekend trip, paddle to the first camp site on Homer just before the wilderness boundary.  This will allow for a beautiful start to your first full day in the wilderness.  Troll a fishing line on your way in for a potential shore lunch the next day.  If starting the trip earlier in the day, take the 6 rod portage from Homer into Whack Lake then 16 rods in Vern Lake.  Two campsites await on opposite shores just beyond the portage.  These remote wilderness lakes burned in the 1990s and weathered the blowdown of 1999, creating the right conditions for wild berries to grow.  Keep you eye out for a sweet snack on and around the portages and campsites.
(scroll down to continue reading)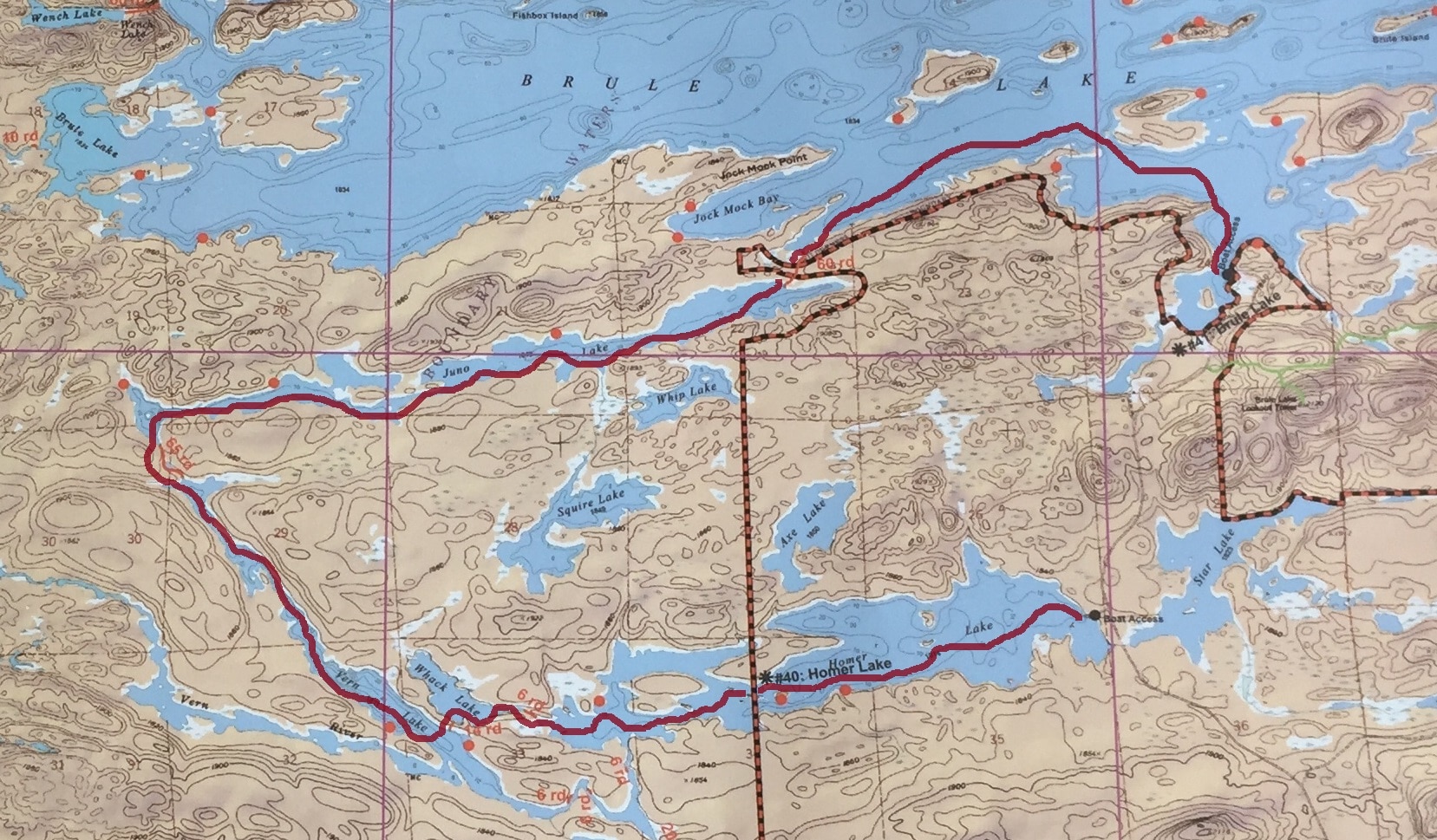 Day 2 – Vern to Juno/Brule: Take your time paddling and fishing as you head north on Vern until reaching the 65 rod portage into Juno.  Take some time on the portage to examine the architecture of the hoover dam of beaver dams constructed by the cunning aquatic mammals. Set up camp on Juno to take advantage of the excellent fishing for northern and walleye or continue east and portage the 60 rods into Brule.  Hug the eastern shore and do a sharp U-turn to enter Mock Jock Bay to stay at one of the two campsites tucked into this enclave of shelter from Brule's notorious wind and waves.   If the weather is calm, paddle to the scenic campsite on the island directly across from Mock Jock Point.
Day 3 – Brule back to Homer: From wherever you enjoy the night, continue paddling east along Brule's south shore. Work your way toward the landing that is entry point 41. The contrast of Brule to the previously paddled small and narrow lakes is breathtaking. Pay attention to landmarks and don't forget best practices for navigating big water if you encounter adverse conditions.  Once at the boat landing, it will feel good to start walking.  Follow the gravel road south for a little less than two miles to return to your car to drive back to Brule and pick up your equipment..  This unique feature to the loop makes for a good way to strech the legs and ease back into the reality of having to leave the wilderness to start the trek home.  Make sure you remember to grab your keys.