Entry Point 39: Baker Lake to Cherokee to Fire Chain Loop
Days: 3-6
Features: Fishing and Wildlife
Day 1 – Baker Lake to South Temperance: Baker Lake  has a Superior National Forest campsite at the point of entry that is no-fee and first-come-first-served.  If you can get up to the campsite the night before your permitted entry date, it is a great way to get an early start.   Baker itself is a small and intimate feeling lake with a 10 rod portage into the long and narrow Peterson Lake.  Both lakes contain Walleye and Northern swimming in the shallow waters, however Peterson's shores host the lone campsite.  A 3-rod portage or brief paddle in high water takes you into Kelly Lake.  You will pass four campsites on the eastern shore. The fifth site is at the northern most point of the lake next to the 65 rod portage in Jack Lake.  If these lakes feel more like a narrow river channel, it because you are indeed paddling the headwaters of the Temperance River.  Drop a fishing line in the water and you may end up with northern, smallmouth, walleye, or yellow perch for a shore lunch. The moose will likely be enjoying the scene as much as you.  Continue north through similar country past the 12 rod portage into Weird Lake.  Be prepared to encounter possible beaver dams along the way.  The first two long portage sections of the trip totaling 80 and 240 rods divided by a small lake will get you into South Temperance Lake where 4 potential campsites await to welcome you for the night. The largest lake thus far on the route, South Temperance is 215 acres with a max depth of 24 feet and a variety of fish species including northern, smallmouth, cisco, walleye, yellow perch, white sucker.
(scroll down to continue reading)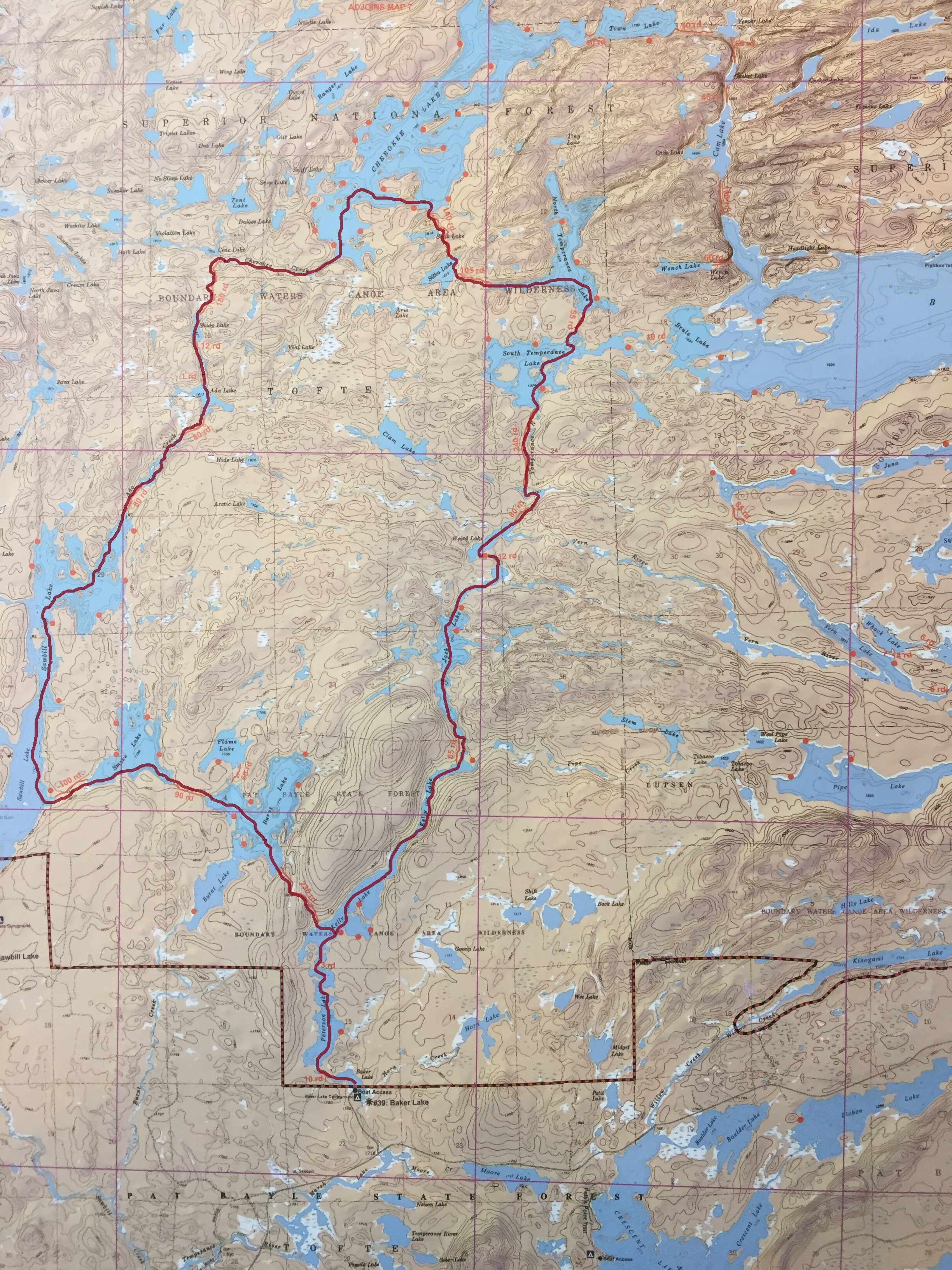 Day 2 – South Temperance to Cherokee: Start your second day by taking the 55 rod portage into North Temperance and hug the western shore into a long narrow channel that leads to a 105 rod portage into the tiny Sitka Lake.  A short paddle north will take you to a notorious 140 rod rugged and challenging portage going up and over the Laurentian divide. You efforts will be rewarded once you get to Cherokee lake.  Cherokee is a beautiful lake with numerous islands and 16 campsites.  This is ideal lake to spend a layover day exploring, swimming, lounging, or just taking in the view, especially if you pick one of the 5 island campsites.  With a max depth of 142 feet, Cherokee is known for lake trout and pike. A sidetrip paddle north and west up to Frost lake will get you to even better lake trout habitat.
Day 3 – Cherokee to Burnt: With the tranquil beauty of Cherokee fresh in your mind, paddle south then west on the narrow Cherokee Creek. Be prepared for a potential beaver dam along the way. Just before the creek empties into Cede Lake, take the 160 rod portage south through Skoop Lake and then  a paddle/portage into Ada Lake.  Ada Lake turns into Ada Creek with two 80 rod portages before reaching Sawbill lake.  Because Sawbill is its own entry point into the wilderness, it may be a busy place depending on the time of year.  To avoid the crowds,  paddle a little more than half way down the lake on the eastern shore to take the 100 rd portage into Smoke.  Follow part of the fire chain 90 rods into Burnt Lake. Set up camp on one of the six sites and spend the evening fishing for northern, smallmouth, and walleye.
Day 4 – Burnt to Baker: One final portage awaits, 230 rods back into Kelly, completing the loop.  You can take your time making your way back to Baker with plenty of fishing and a stop for shore lunch on one of the four campsites immediately accessible upon entering Kelly Lake. Once you are back on Kelly, its only a matter of retracing the short distance back through Peterson to Baker.