Late-Winter Ice Travel
Jeff Lynch
Ready or not, here spring comes!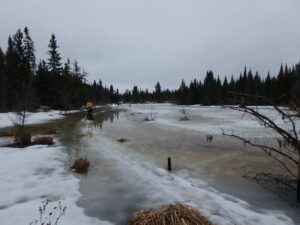 Unseasonably warm winter weather has us thinking spring up here at the outfitter. Recent XC ski trail reports (especially up the Gunflint Trail) have been surprisingly decent thanks to the fresh load of snow that we just got a few nights ago. That being said, the extended forecast is looking pretty warm and it won't be long before we're swapping out our skis for bikes and toboggans for canoes.
When winter temperatures start to climb above freezing, one of the most common questions that we get from winter campers and backcountry skiers is-
"What's the ice like out on the lakes?"
The reality is that lake ice, no matter the weather, is never 100% safe.
While a majority of winter adventurers make judgment calls on the strength of ice based on factors such as appearance, depth, age, or temperature, there really is just no way to be sure. Currents can impact the thickness and safety of ice in unpredictable ways, the size of the body of water can play a role in determining ice depth, and, according to the DNR, even moving fish populations have been known to bring up warm water from the bottom of the lake.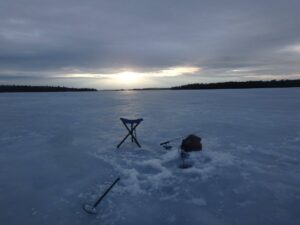 March and (especially) April are particularly tricky months to determine whether or not ice conditions are suitable for winter travel. Conditions change fast in the spring, and often times vary depending on where you are on a particular lake or river. Lake ice closest to shore is usually the first to go in the spring, while areas where water is moving tend to melt before areas of calm water.
Most people have come across the DNR's ice thickness guidelines of 4" minimum for ice fishing, 5"-7" to safely ride a snowmobile, and 12"-15" for a full sized truck. In the spring, however, when the ice is old and starting to rot, conditions can change fast and ice thickness is a less certain means of determining ice safety.
So what to do?
The best thing to do is be prepared.
If you do decide to get out on the ice in the spring, it's important to bring the appropriate equipment and take necessary precautions. Travelling with others when navigating lake ice is safer than travelling alone, and bringing a throw-bag , ice-picks, and a pfd is never a bad call. Wearing a pfd while travelling across ice might feel a little silly, but it can make all the difference if you were to fall through the ice.
The Minnesota DNR has a plethora of information on ice safety, winter ice travel, and what to do if you or a partner falls through. Click HERE to check out what the DNR has to say about winter travel.