Tubbs Snowshoes, Altai Hok Skis, Fischer XC Skis, and Yaktrax- When to use them and Why
Jeff Lynch
Winter is fickle and takes many forms in our neck of the woods, so it's best to plan an adventure that works with the conditions rather than against them. Some forms of winter travel are better suited for fresh snow, others for a hard, icier snow-pack. Staying flexible and adapting your trip to the conditions is the surest way to have a good time no matter what mother nature might throw your way.
Snowshoeing is for deep snow 
Snowshoes are a winter classic and perfect for exploring rugged terrain in deep snow conditions. Snowshoes have been helping people travel in the winter for thousands of years, and work in the same way as a Lynx's over-sized paw by distributing the wearer's weight over a larger area to keep them "floating" above the snow rather than sinking through it with each step. Trudging through deep snow without snowshoes is known as "post-holing", an experience that is exhausting, slow, and not especially enjoyable. Be a lynx, not a deer!
Snowshoes are maneuvarable in tight situations, making them the best option for exploring sections of the Superior Hiking Trail after a heavy snowfall, venturing off-trail through the woods, or along a frozen river. Lots of people take them out on winter camping trips, and in March and early April they are the only way to move about between sugar maple trees when collecting sugar maple sap to boil into syrup.
When choosing a pair of snowshoes its important to pick one that fits. Both models of the Tubbs snowshoes that we carry- the Frontier and the Xplore– come in a variety of sizes and with built-in crampons underneath to give users added traction over slick snow-pack and the occasional patch of ice. If the snowshoes you're using are too small you'll sink through the snow, but if they're too big they'll be cumbersome and hard to manage on your feet. It's best to be like Goldylocks when choosing snowshoes and take the time to find the pair that fits "just right".
Altai Hok Backcountry Skis- are they a ski or a snowshoe?
We like to describe Altai Hok backcountry skis as "a snowshoe that glides". Significantly shorter than a traditional backcountry ski but longer than a snowshoe, Hok skis combine the maneuverabilty of a snowshoe with the efficiency of a ski. Hok skis work well in a variety of winter conditions and terrain, making them a great choice for winter camping, adventuring across frozen lakes, and cruising through (relatively) open spaces.
Unlike a more traditional pair of classic or backcountry skis, Hok skis perform well in deep snow and over moderate elevation. Their integrated climbing skin gives them an impressive amount of traction going up hills, but you'll still probably find that you need to take them off for steeper ascents and descents, especially with a sled in tow. We like to use our Hok skis on trips into the BWCA when the snows too deep to move effeciently on a longer backcountry ski, and the terrain is mild and open enough not to require snowshoes.
Altai Hok Skis come in two sizes- 125cm and 145cm- and choosing the right pair will mostly depend on the size of the user and the type of winter travel that they'll be used for. Stop by the shop sometime to experience Hok skis for yourself and see what they're all about. We offer Altai Hok skis for rental and retail, depending on what you're looking for.
Cross Country Skiing
Cross country is an awesome way to get out into the woods for those looking for a more dynamic winter experience.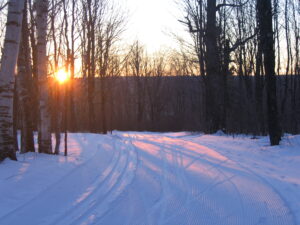 Both classic and skate skiing are loads of fun, but depending on the weather it's sometimes best to pick one over the other. Fresh, soft snow can make skate skiing a slog, while icy conditions often make classic skiing an experience in frustration, especially toward the end of the season when trails get caught in a freeze thaw cycle.
Using an appropriate kick wax with wax skis or switching to a pair of skin skis like the Fischer XC Twinskin Superlite can help with traction when the classic track turns to ice, but skate skiing is fastest in those conditions, so why not just do that instead?
Unless you're using a pair of backcountry skis with metal edges and a wider base like Fischer's OTX sbound ninetyeights or the slightly less wide E99 bcx crown, cross country skiing is best on groomed trail systems like the Sugarbush. With over 400km of groomed trail, cook county boasts one of the largest ski trail systems in North America making it one of the best places to ski in the country.
We are a Fischer dealer and have a variety of different classic, skate, and backcountry skis in stock at our shop. We also offer rentals for folks looking to try the sport out for the first time. Check out some of our favorite routes by clicking HERE.
Yaktrax
Yaktrax are a type of snow-cleat best suited for trails that are covered in packed snow and ice. If you're sticking to hiking trails that have already been packed down by earlier snowshoers, or hiking early or later in the season when trails tend to be icy and a little treacherous, yaktrax are often a better, more convenient option than snowshoes, even during winters that have seen lots of snowfall. It all depends on where you're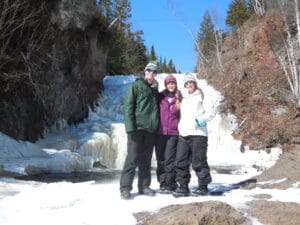 hiking and what the trails look like in that moment.
Yaktraks come in different sizes to fit just about any size shoe, and are a must when trails become treacherous with ice. There small and easy to pack in a backpack or even a jacket pocket, so we recommend bringing a pair along just in case when out for a day of hiking this time of year.
We carry three different models of Yaktrax in our shop- Yaktrax Chains,  Yaktrax Pro, and Yaktrax Diamond– all of which offer varying degrees of added traction depending on what your looking for.