Improved North Shore Ski Trails
Hannah Hoaglund
We consider ourselves lucky. We have some of the best ski trails in the region right outside our back door. And, if you head out to the Sugarbush Ski Trails, you'll notice they're even BETTER than before.
Why is that you ask? There has been a big upgrade to the grooming equipment used this season on the Sugarbush Ski Trails outside of Tofte and Lutsen, MN. This winter a 2016 Kassbohrer PB 100 Pisten Bully was purchased by the Sugarbush Trail Association, the organization that oversees the grooming and care of the trails.  If the trails weren't great in past years (and we think they were), they certainly are now!
In years past a 1992 Pisten Bully was used for grooming. Although it did a great job on the trails, the old Pisten Bully was somewhat outdated and frequently experienced mechanical issues. Because of the extreme winter weather that occurs along the north shore of Lake Superior, it is not unusual to see six foot drifts across trails or (because of the proximity to the lake), very heavy snow events or even freeze/thaw cycles that can turn the trail into a glacier. Although snowmobile grooming equipment can handle most conditions and is great for low snow years and light touch-up work, there is no substitute for heavy equipment like a Pisten Bully to handle extreme conditions.
With the new Pisten Bully, the Sugarbush ski trails will now have full-width ski lanes for both skate and classic skiers. The skate ski lane is seven to eight feet wide, with the classic lane being three to four feet. These widths serve both disciplines very well.
If you haven't been out there on the trails this year, we highly recommend you do so. The skiing has been great! Plus, we'd love to hear what you think of the improved conditions.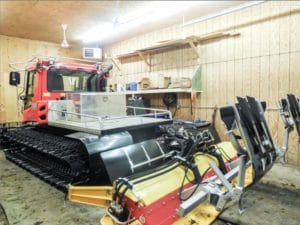 A few links you might find useful:
Sugarbush Trail Ski Maps can be found HERE  Whether you're trying to cross country ski at Britton Peak in Tofte, further up the Sawbill trail from the Moose Fence Trailhead, or from Onion River Road near Lutsen these maps will help you plan and navigate your next ski.
Sugarbush Cross Country Ski Trail Conditions (Tofte and Lutsen, Minnesota) can be found HERE