Skin Skis on the North Shore
Hannah Hoaglund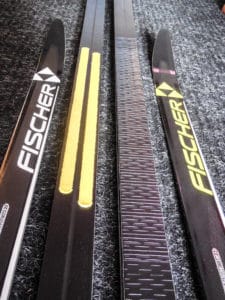 One relatively new revolution in the cross country ski industry are skin skis. These no-wax skis have created a lot of buzz and have been changing the way we can ski here on the North Shore.
What is a skin ski
So, what is a skin ski and how are they different from a traditional cross country ski? A skin ski is a ski with a Teflon-infused synthetic grip section on the bottom of the ski instead of the traditional fish tail pattern. They have an advantage over traditional no-wax skis in icy and slippery conditions because the skins do a much better job of gripping the icy snow. Therefore, skiers can often go faster. Skin skis also do really well in warmer conditions when snow tends to clump together and stick on the bottom of traditional skis as the skin repels the snow. Skin skis were introduced in the 70s, but at the time ski construction was less technological, therefore they never gained popularity like they have recently.
Here on the North Shore, we find Lake Superior changing the conditions of the snow often, which typically means our snow melts and refreezes. With these conditions, skiiers who opt for skin skis tend to have a more enjoyable experience out on the trails.
Our recommendation
One skin ski that we recommend to many is the Fischer Twin Skin Superlite ski. It is a high performance ski with a smooth, easy glide. The cutting-edge skin ski technology makes it perfect for North Shore (and midwest) skiing.
—
Rentals
If you are interested in trying skin skis, we have a few pairs of the Fischer Twin Skin Superlight skis available for rental. You can try them before buying. Or, rent them for a different experience when you're skiing on our often icy North Shore snow.
—
Questions?
Do you have questions about skin skis? The technology? Which ski is best for you? Give us a call at (218) 663-7643. We're happy to answer any of your questions.