The Right Stove For Your Adventure
Jeff Lynch
Know Your Options
A few helpful things to consider when buying a stove is where and how you will use it and how much you can spend.  In Northern Minnesota, you are likely either car camping in a campground, backpacking part of the North Country Trail, or canoeing camping in the wilderness.  Different stoves will be more or less ideal for each of these experiences.
The first consideration is weight.  Since a backpacker is literally carrying everything on their back, they tend to go as small and light as possible. On the other end of the weight continuum are the car campers with the freedom to travel with a stove of considerable size and weight.  In between are the canoe campers, with some preferring to go small and light while others willingly take on the extra weight of a stove with more bells and whistles.
All-In-One Stove System
The stove that garnishes the most attention for its unique design and twin burner cook system is the Genesis from Jetboil, an excellent choice for either car camping or for canoe country.  By far, it's most compelling advantage is the ability to utilize two burners simultaneously while being compact enough to fold in half for easy travel.  The burners are highly efficient and versatile enough to boil quickly or hold a low simmer.  We like this design so much we carry the Gensis Basecamp System.  This ultimate all-in-one backcountry cooking system packs neatly inside itself while fitting snugly into the durable travel bag.  When it's time to make food, unzip the bag and you have the regulated Genesis stove, a 5-liter FluxPot, and a Fry Pan—everything you need but the food itself.  In fact, this is Outdoor Gear Lab's top pick for double boiler stoves in terms of portability. With a price of around $350 for the entire system, it's worth every penny. For obvious reasons, however, leave this at home if heading to the SHT, Border Route Trail or the Kekekabic.
Canister Fuel Stoves
While the canoe camper may be bragging about their fancy gourmet kitchen set up, the backpacker will likely be bragging about the simplicity of theirs.  Most light and compact stoves are a canister system which means they screw on to the threaded tops of closed fuel canisters that contain two pre-pressurized gases: isobutane and propane. Other than being small and lightweight, these stoves are quick to light by a simple turn of the valve and the flick of a lighter or match. The closed canister will self-seal when you unscrew the stove eliminating worry over spills and leaks.  We carry multiple choices of canister stoves for any budget.  The GSI Glacier Camp Stove is relatively small but has a high-output designed for fast, reliable cooking under sturdy pot supports that hold larger cookware. The large diameter burner head spreads heat evenly across the bases of pots and pans so you won't waste any time when your stomach is growling.  It's hard to beat the price, at $21 it's the most inexpensive way to hit the trail prepared.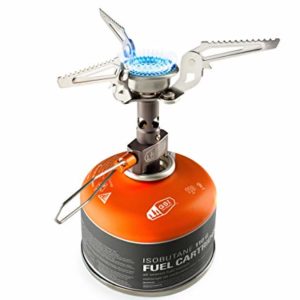 If you are motivated to go even smaller and lighter with greater versatility check out the GSI Pinnacle stoves or the MSR Pocket Rocket. The Pinacle stoves are compact and lightweight but have a high-output design for efficiency in every regard. The big upgrade from the Glacier is the Pinnacle's folding pot supports that pack small to nest within cookware and the integrated windscreens that allow faster cook time with less fuel.  The winner for being most compact and lightweight, at 2.5 ounces with a built-in pot stand is the Pocket Rocket 2. When not in use, the arms of the pot stand fold down to fit into your cook pot. The adjustable flame control is easy to use and provides precise control for a rolling boil or a slow simmer, a useful capability if you want to do more than just boil water on your trips. The flame is easy to regulate using the shaped wire on the stove stem, which folds away when the stove is packed. This stove earned Section Hiker's number one backpacker stove for 2019. Best yet, you will pay only around $20-$30 more for these distinct advantages.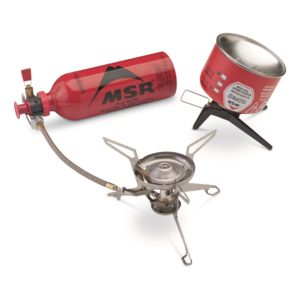 Remote Fuel Stoves
Our final recommendation for stove types is the "remote" category, which typically refers to stove where the canister attaches to the burner by means of a long hose, as opposed to screwing directly into the canister port. The MSR Whisperlite has been around in various forms for many years due to its simple and effective design which makes it easy to repair in the field. For this reason it is ideal as a long expedition stove. It's versatility allows it to crank out high heat for boiling water or melting snow but can also be turned down for sauteing and simmering. The Whisperlite is a liquid-fuel stove and can run on multiple types of fuel. The Universal burns a variety of liquid fuels including white gas, kerosene, unleaded gasoline but can convert to isobutane-propane canisters allowing flexibility no matter where you find yourself. In addition to the stove, the 13.7 oz Whisperlite Universal includes a fuel pump, windscreen, heat reflector, and small parts kit for field repairs.  The main advantages to this liquid fuel system is it's low-profile for greater stability on uneven ground, the ability to easily tell how much fuel is left in the refillable fuel bottle,  no canister to discard, and a better performance in cold temperatures. Outside Online rated this the best stove for lengthy expeditions, so consider investing the $140 when heading out for your next long trip in the backcountry.
If you want the convenience of a canister stove but like the design of the Whisperlite, consider the WindPro II.  Its remote, invertible canister allows you to securely wrap the burner in an included windscreen to boost efficiency without worrying about overheating the fuel can.  If you don't need the ability to melt snow, consider this the 3-season alternative. The wide, low burner keeps big pots stable on a variety of surfaces and the responsive flame control will let you toast that grilled cheese to perfection. This stove is $45 less than the whisperlite and is less than half the weight.  At 6.6 oz., the WindPro II is the lightest remote canister stove on the market