Fall Camping in the Northwoods
Jeff Lynch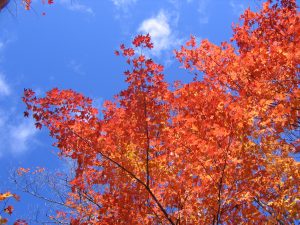 Fall is an amazing time to camp on the North Shore of Lake Superior.  Whether you are paddling in the Boundary Waters, Backpacking the Superior Hiking Trail, or hammock camping in the State Parks, you are sure to encounter beautiful forest canopies of red, orange, yellow, green and gold.  Just as likely on any October trip are high winds, rain, and even snow. Thus the bold must endure the elements in order to camp under the majestic canopy of color. In this month's blog post we feature the top pro tips to stay warm and dry in any camping conditions so that you don't have to suffer while savoring the beauty. The key to staying comfortable is in the tools you take in the wilderness and how you use them.  From tarps to tinder it takes extra time to get it right.
Warmth:
Your first and most important source or warmth is your self-generated body heat.  Make sure to bring all the necessary layers. A wool base layer is ideal to trap heat against your skin and wick moisture away from the skin when you sweat.  A high quality fleece can be worn over the base layer as an additional insulating layer. A rain jacket and pants will act as your shell layer to keep rain and snow out and the rest of your layers warm and dry. If you have owned your rain gear for multiple seasons, it likely will need to be treated in order to maintain is water proofing qualities.  Finally, throw in a down "puffy" coat for times when the temperature dips and more insulation is needed. Make sure to bring an appropriately rated sleeping bag for the temperatures and an insulated sleeping pad so the cold ground doesn't draw your body heat out during the night. If hammock camping, consider an underquilt that is suspended underneath the hammock where it can insulate the bottom of the hammock without being crushed under the occupant's bodyweight. This option eliminates the need for a sleeping pad when hammock camping.
Your second source of heat is a well built and well protected campfire.  Study up on the basics of fire building if you don't already understand the concepts of tinder, kindling, and fuel for fire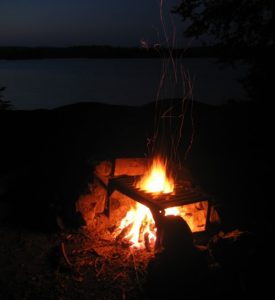 construction.  To summarize, tinder turns a spark or small flame into a bigger flame, think birch bark or pine needles. Kindling involves progressively larger twigs then sticks to build the flames large enough to sustain the fire.  Once coals are established as an ongoing heat source, logs are added as fuel for that heat to continue. The key components to keep that fire going are a steady flow of oxygen and dry fuel. This is where the tools you bring along become important.  A camp saw will allow you to cut large logs into manageable sections to carry and use for your fire. An axe or hatchet is essential for splitting large logs into small enough kindling to get your fire initially started. A hatchet is also helpful when rain and snow are a factor.  If your wood is wet, you may need to cut and split it to get to the dryer core. Once your fire is started, you can position wet pieces of wood on rocks or the grate over the fire to accelerate evaporation of moisture. To speed this up, use your axe to split logs vertically allowing increased venting throughout the wood.
Finally, check out your fire ring and make sure it provides a balance or heat reflection and ventilation.  An effective fire ring will have three walls built up to reflect the heat back inward. Also make sure there are gaps located around the bottom for air circulation. This will ensure that your fire has adequate ventilation to draw oxygen for combustion.  
Wind and Rain Protected Camp:
Adequate Shelter can make camping in the wind, rain or snow a fun and relaxing experience, complete with roaring fire and hot beverage.  In addition to a water proof tent, make sure to throw in at least two tarps and plenty of rope/chord. A 15 by 20 foot tarp can be strung over your fire grate, keeping a high ridge line approximately 10 to 12 ft off the ground to allow full protection for your fire to burn hot and keep you warm.  Consider stringing the tarp up completely horizontal so that it cannot be caught by the wind. That same wind can pull the heat from your body so survey camp for natural wind breakers such as boulders or dense clusters of trees. If no natural wind break exists, use your second tarp to build a wall by stringing it vertically between two trees.  The absence of wind felt when sitting behind this breaker will feel like a warm relief. Imagine it: a roaring fire, dry camp, and minimal wind. All that's left is to boil some water on that fire and drink a hot beverage to warm you from the inside out.