Fishing in Canoe Country
Jeff Lynch
When fishing lakes both within and around the BWCAW, versatility, and stability are of utmost importance. In this month's blog post, we are sharing our favorite spots for catching a wide variety of fish species in northern Minnesota as well as the canoes that we recommend. As we are located on Highway 61 in Tofte, MN, we are on the way to wherever you may be heading into the wilderness. From lakes 15 minutes away to an hour and a half at the end of the Gunflint Trail, we have plenty of recommendations for where to explore, fish, and relax. In terms of fishing, here are a few of our picks for different fish species.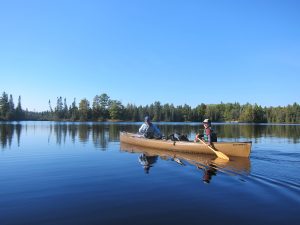 Outside the BWCAW:
Crescent – Walleye, Smallmouth Bass, Northern Pike, Muskellunge
Wilson – Walleye, Northern Pike, Yellow Perch
Silver Island – Walleye, Northern Pike, Black Crappie
Two Island – Walleye, Bluegill, Northern Pike, Smallmouth Bass
Toohey Lake – Walley, Northern Pike, Yellow Perch, White Sucker
Inside the BWCAW:
North Temperance – Northern Pike, Walleye
South Temperance – Walleye, Northern Pike, Smallmouth Bass
Winchell – Lake Trout, Northern Pike
Alton – Walleye, Smallmouth Bass, Northern Pike
Kawishiwi – Walleye, Northern Pike, Yellow Perch
Malberg – Walleye, Northern Pike
Brule – Smallmouth Bass, Walleye, Northern Pike
Koma – Walleye, Northern Pike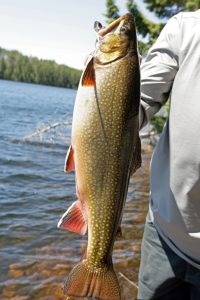 The following inland lakes outside of the Boundary Waters are highly trafficked by anglers, therefore we recommend heading into the Boundary Waters for the best fishing opportunities.
Out of the lakes listed above, some of our favorite fishing spots include: Winchell, Brule, Koma, Malberg, and Kawishiwi. For easier day trips, going up the Sawbill Trail to Crescent Lake will be one of the closest fishing spots to our location in Tofte.
Canoes best outfitted for recreational and Boundary Waters fishing trips:
Whether going on a weeklong trip into the Boundary Waters or taking a day trip into remote areas, our tandem Kevlar options offer both stability and performance with the advantage of light-weight material.
Boundary Waters (17', 42lbs) – With a width of 36.5 inches, the Boundary Waters is the perfect all-around canoe. Stable enough for fishing and rocker making it easier to turn, it's the perfect boat for tandem exploration.

Champlain (18', 46lbs) – Canoe designed for big loads with enhanced efficiency & seaworthiness.

It also has fullness for much of its length, giving it even greater volume than its dimensions suggest. It gets excellent stability from its size, and from its shallow-arched hull, a design that is less sensitive to waves and easier for paddlers to handle. 
Aluminum and Royalex Tandems
Though not as light as the Kevlar tandem canoes, Aluminum and Royalex canoes offer greater peace of mind due to increased durability and come at a lower cost than the Kevlar rentals. The Grumman 17 and 18 can also be utilized as three person canoes with their seat/yoke system.
Morning Star (15.5', 59lbs) –  Great for fishing and paddling lakes as well as rivers.

Grumman 17 (17', 66lbs) –


Kevlar Solo Canoes ($32.00 per day)
We all want to escape into the wilderness, and what better way than to
Prism (16.5', 30lbs) –

Northwind Solo (15.5', 28lbs) –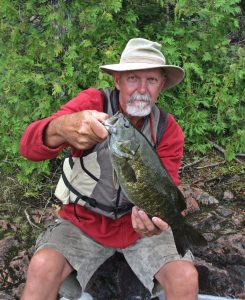 Lure Recommendations:
While knowing which lakes to fish and the canoes to get you there is always helpful, the final piece to the puzzle is knowing how to catch the fish you're after. In the Boundary Waters, bringing along slip bobbers with leeches will usually bring in Walleye for more stationary anglers, while diving shad raps and spinners provide better trolling options. With Northern, most lures will do, but you may have more luck with Doctor Spoons, Little Cleo's, and other spoons of various colors. Lake Trout are usually in deeper waters and require 4-8 oz of weight, dependent on depth, and also lean more towards spoons than shad raps or spinners. If you're looking for specific trout lures, Kastmasters are geared towards Brook Trout while Laker Takers are geared towards Lake Trout, both of which we sell in-store.
One of the most fundamental rules that we like to highlight is the colors to use dependent on water clarity. If the water is dark or muddy, use brightly colored lures; if the water is cleaner and clearer, use light, subtle colors. If this rule doesn't work, vary your use of lure color until you find one that works.